GCU, November 2, 2019: Professor Liguang Wu, Director of International Office and Dean of International Business School of Guangzhou College of South China University of Technology was invited to give a presentation on IACBE accreditation on the 54th China Higher Education Expo on November 2 in Nanjing, China. Prof. Wu's presentation, titled "IACBE Accreditation and the Enhancement of Educational Internationalization" was one of the sessions in the forum – Reforms and Challenges in Business Higher Educational Internationalization.
Higher educational internationalization is an unstoppable trend under the era of economic globalization. The forum aims to provide a platform for business education leaders and faculty in China's higher education institutions to discuss and share insights and good practices in terms of promoting exchanges and cooperation, discovering trends in student cultivation and enhancing the level of educational internationalization. Over 120 delegates from more than 60 China's higher education institutions have attended in the forum.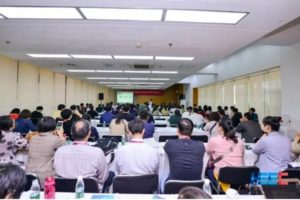 Professor Wu's presentation outlined how business accreditation benefits educational internationalization based on the IACBE accreditation experience of Guangzhou College of SCUT and the educational concepts of International Business School. Analyzing the focuses and principles of different accreditation organizations, he stated that application-oriented university shall determine the suitable accreditation path in accordance with the mission, vision and characteristics of the university. Guangzhou College of SCUT has achieved great outcomes in academic standards, quality enhancement and international cooperation in the process of IACBE accreditation. Professor Wu's comment that business accreditation helps enhance the level of business educational internationalization for application-oriented university has received positive feedbacks by the forum attendees.
Attending and giving presentations at the forum were the deans of business schools of Shanghai Jiaotong University, Tongji University, China University of Petroleum, Beijing Foreign Studies University, Guangdong University of Foreign Studies, as well as Dr. Brad Alan Kleindl, Chair of Board of Commissioners of ACSBP. Guangzhou College of SCUT was proud and honored to be the only private institution as well as the only independent college invited for presentation on international business accreditation.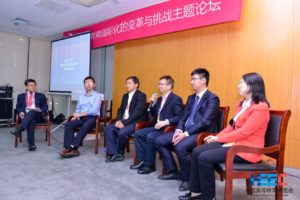 The presenters have also joined for a panel discussing the challenges of business education in higher institutions, combination of business education and language enhancement, and the future development of business schools. In an ever changing world with advanced technologies such as big data and AI, facing the new generation with distinct characteristics, business schools shall innovate itself to cope with the risks and challenges in business program development and educational internationalization.
The 54th China Higher Education Expo was hosted by hosted by China Association of Higher Education and organized by Department of Education of Jiangsu Province and Jiangsu Association of Higher Education. The theme of this year's Expo is to showcase the educational achievements of China during the last 70 years since the country's founding and to promote educational modernization and innovative development. There are not only forums and workshops regarding all expects of higher education including regional education reform, smart teaching, industry-university cooperation, the "New Engineering Discipline" and faculty development, but also exhibitions on scientific research projects, labs, experimental equipment, logistic and technical support tools.
Written by: Minghui Yang
Source: GCU News (Chinese)