GCU, September 6, 2019: Delegates from IACBE member Wright Graduate University, USA — Dr. Robert Wright, founder, board member and CEO, and Dr. Phillip Blue, Professor of Applied Neuroscience visited Guangzhou College of South China University of Technology on September 5. Professor Ying Lin, Vice President of GCU, and Professor Liguang Wu, Dean of International Business School & Director of International Office met the delegates in Administration Building.
Prof. Ying Lin expressed her warm welcome to the delegation, introducing that GCU has achieved many results in the aspects of student cultivation, program development, scientific research, social services, academic contests, innovation and entrepreneurship, etc. in recent years with the mission of cultivating application-oriented talents. Since the IACBE accreditation application initiated in 2013, there are now 11 GCU business program accredited by the IACBE, covering School of Management, School of Economics and International Business School, and GCU is proud to be the first university in China with IACBE-accredited programs.
Welcoming the delegation of Wright Graduate University, she added that it has been a great pleasure to network with IACBE member in North America through the introduction of Dr. Phyllis Okrepkie, President of the IACBE. She hoped that both universities can deepen mutual understanding, look for common grounds and enhance exchange in business education.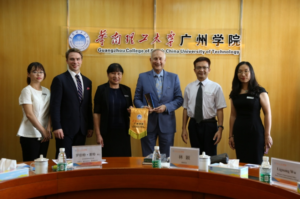 Dr. Robert Wright extended his gratitude and said that he was pleased to meet with GCU leaders. He introduced that Wright Graduate University focuses on transformational leadership and coaching and works closely with the finance, architecture, education industries to cultivate outstanding business leaders and entrepreneurs by innovative and application-oriented leadership courses. The university plans to develop online transformational leadership courses so that the impact and application of the courses will be expanded.
Both universities further discussed details of transformational leadership courses. Prof. Ying Lin commented that leadership education is an important element in student's self-growth and career development. She expects to see the promotion of such innovative courses combined with distant learning.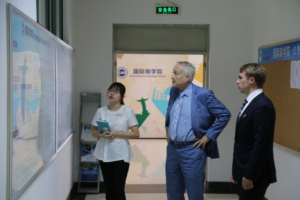 Ahead of the meeting, the delegation was guided a tour in campus including the International Business School, School of Management and the Economics & Management Experimental Center. Business students' job placements, postgraduate admissions and the team-based simulation classrooms have impressed the delegates.
GCU was first granted the IACBE accreditation to 4 business programs in 2018 — International Economics & Trade, Business Administration, Marketing, Accounting. In May 2019, School of Management obtained accreditation for all its programs, with Financial Management, Human Resource Management, E-commerce added. The business programs of International Business School were also accredited in August 2019 — International Economics & Trade (International & Bilingual Programs), Accounting (International & Bilingual Programs), making the total number of GCU accredited programs reaching 11. In addition, GCU Executive Vice President Professor Zhixin Zeng was appointed the Vice President for the IACBE Asian Regional Assembly in April 2019.
International accreditation is not only an important measure to continuous advancement of academic quality and program development, but also a platform for international exchange and cooperation. GCU has actively participated in IACBE events, worked closely with the IACBE, and engaged in interaction with IACBE members and also institutions interested in joining in business accreditation home and abroad to share good practices in business education and explore exchange and cooperation possibilities.
Written by: Huijing (Candy) Huang
Edited by: Emilie (Xianxian) Chen, Jing Zhao
Source: GCU News (Chinese)