MOVING. FORWARD. TOGETHER. Webinar Series
As a service to our members and friends, the IACBE is providing a series of webinars to explore a variety of topics of interest to our members and to provide professional development opportunities for faculty. There is no charge for the webinars.
View recent webinars                      View Archived Webinars
Upcoming webinars: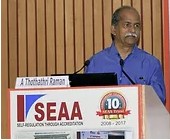 October 19th, 10 PM, CT. The Social Impact of Business Education.  Digitalization of education and industry also means more focus on society and its problems. Ideas like Universal Basic Income are now more seriously discussed than ever. The next generation of leaders need to be sensitive about the social needs of their constituents and community and not just the market or the shareholders.
Join Thothatri Raman as we discuss The Social Impact of Business Education from the perspective of what has been done, how it has worked, and what could be done by the future business leaders who are being trained at the business schools.
This forum will also preview the 15th Annual SEAA Accreditation Conference being held virtually November 7 and 8.  Please note that we are holding this Forum at 10 PM CT to better accommodate our participants in Asia who have a special interest in the SEAA conference.
Thothathri Raman has four decades of experience as a business journalist and founded the Standards for Educational Advancement & Accreditation (SEAA) Trust, New Delhi out of a passion for building globally bench-marked peer reviewed quality in the world's second largest market for MBAs (India).  Mr. Raman also pioneered Media Ranking & Rating of Business schools in India in the year 2000 at Business India magazine as its Executive Editor and later Consulting Editor.
---